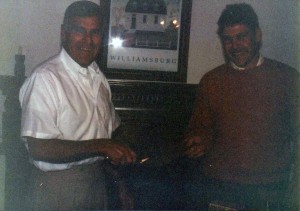 LaQuerre Masonry was established in 1956 by Matt's father Bob. Growing up, Matt worked along side his father and upon completion of a Bachelor of Science in Constructional Engineering, from Wentworth Institute of Technology, he entered the business full time. When Bob retired in 1990, Matt became the sole proprietor of LaQuerre & Son Masonry.
Matt, as was his father, is well respected in the masonry business and has been the mason of choice for many local builders throughout the years. He is responsible for the fireplaces in many of the developments in the Southern New Hampshire area and beyond.
LaQuerre & Son Masonry provides a wide variety of masonry services such as chimney maintenance and repair, fireplaces and fireplace refacing, cultured stone, brick/stone fronts, walkways,  patios, stonewalls and of course custom brick/stone homes. Services are primarily provided to the Southern NH and Northern Massachusetts areas and other locations are always considered.
Over the last decade, with the decline in the economy and corresponding building slow down, Matt has re-focused his attention to the homeowner.  Matt brings his years of experience, education, high quality service and integrity to even the smallest of jobs.  LaQuerre & Son's craftsmanship is unparalleled as is Matt's ability to build and create whatever a homeowner dreams up.